Endo ReliefTM
Needle-like forceps
Product Details
In recent years, minimally invasive surgery utilizing single-incision laparoscopic procedures and needle forceps has become more and more widely practiced aiming for less invasive and more cosmetically disruptive operations in endoscopic surgery.
However, such surgery is relatively difficult to perform and its safety has also been questioned.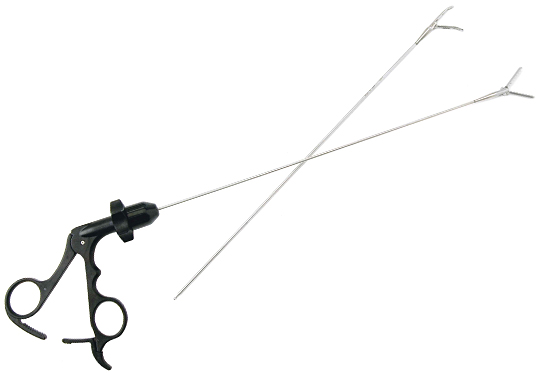 Our Endo ReliefTM Needle Forceps represent a new concept in forceps that is internationally unrivaled. Although the grasping tips are 5 mm, like those of conventional forceps, the shaft diameter is a remarkably slender 2.4 mm.
The design of these unique and revolutionary forceps is based on a special handle fitting method.
Since the grasping tips are 5 mm in diameter, like most ordinary forceps, they are just as safe and easy to operate.
The very thin 2.4 mm-diameter shaft means that patients are left with little post-operative wound; healing is fast and the cosmetic result is excellent. Furthermore, the use of special titanium for the shaft ensures light weight, high corrosion resistance, and outstanding stability.
Endo ReliefTM Needle Forceps expand the range of applications for fixing forceps in reduced port surgery, by enabling the application of the triangular formation technique as same as conventional procedures in a greater variety of operations such as gall bladder disease, appendicitis, hernias, and gynecological procedures (hysterectomy).

Patent pending
Rigidity and Durability

A broad insertion section with a titanium alloy shaft provides high rigidity and exceptional durability.

Sensitive Operability

The tips can be rotated in the conventional manner through handle-side control. With such smooth operation, it's hard to believe the small diameter of these forceps.

Safety and Reuse

To deliver safety through a familiar feel and enable repeated sterilization, the tips have been designed with the same size and form as conventional 5-mm forceps.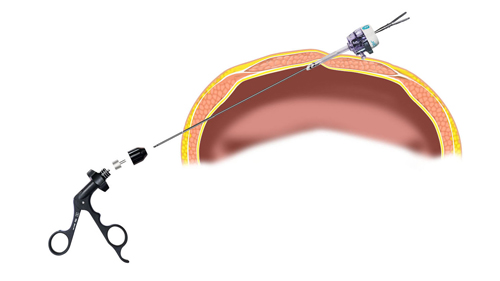 Endo Relief Jaws
Products Name / Number
Handle
Handle with ratchet
Double-action fenestrated atrumatic

J3101HK11
J3101HK12
Double-action atrumatic crimp

J3102HK11
J3102HK12
Single-action upward curved

J3103HK11
J3103HK12
Double-action upward curved

J3104HK11
J3104HK12
double-action fenestrated Duck Bill

J3105HK11
J3105HK12
Double-action versatile

J3106HK11
J3106HK12
Double-action Maryland(ultrafine)

J3108HK11
-
Needle Holder

J3111HK11
J3111HK12
Shaft Guide Plus

Puncture needles for direct abdominal insertion of Endo Relief.

Flyer Download Flyer (PDF)
5mm Forceps
All our forceps are atraumatic, with excellent gripping force, sensitivity, and durability, for guaranteed satisfaction.
Product Details
Also available for conventional 5-mm forceps. Please inquire for more details.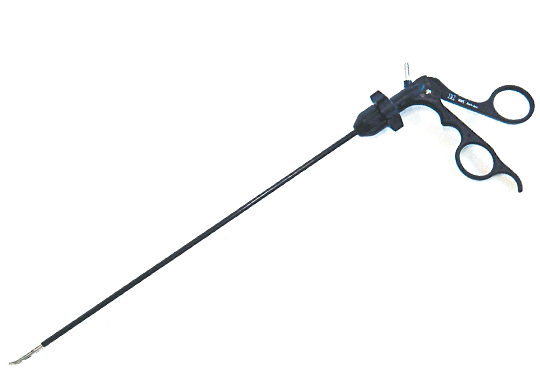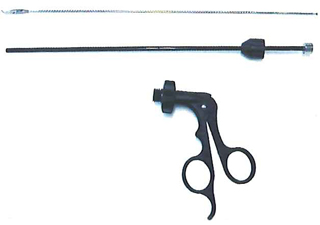 You can assemble and disassemble our forceps easily.
ENDO-PSI(Ⅱ) SLIM
Laparoscopy-assisted esophagoenteral anastomosis using endoscopic purse-string suture instrument "ENDO-PSI(Ⅱ) SLIM" and circular stapler
Product Details
Esophagoenterostomy in a laparoscopic total gastrectomy procedure is a difficult technique that requires skill in inserting and fixing an anvil head when using a circular stapler for reconstruction.

The ENDO-PSI (Ⅱ) SLIM Purse String Instrument, fitted with a trocar, is directly inserted in the trocar wound (10 to 12 mm) below the xiphisternum. By making a purse-string suture of the esophagus and transecting it, the anvil head can be inserted and fixed laparoscopically, enabling a precise esophagoenterostomy to be performed using the same basic technique as an ordinary abdominal operation.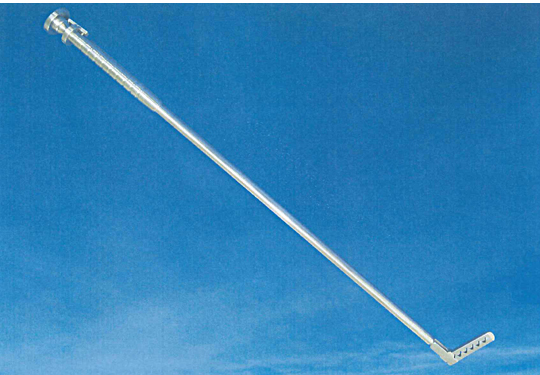 Specialized sutures
NC-WT50F02M-90 polypropylene sutures for purse-string sutures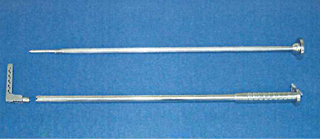 ENDO-PSI(Ⅱ) SLIM can be divided into three parts.
It is Simple & Easy-to-Assemble.
Endo View
Smoke evacuation forceps
Product Details
Point1 Shaft opening
For left-handed use by surgeon.
Allows the surgeon suction close to the point of operation at any time.

Point2 Evacuation port
The suction tube of the laparoscopic insufflator* connects to the Evacuation port.
*Olympus High Flow Insufflation Unit UHI-4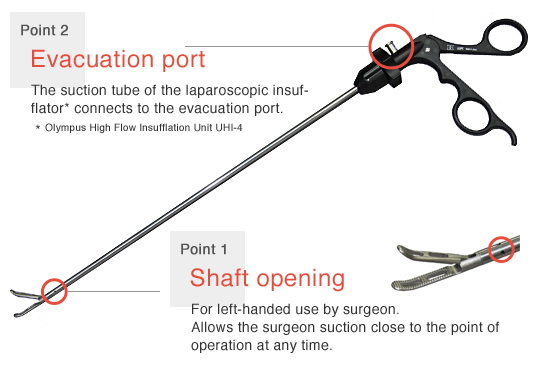 Effective for mist from ultrasonic coagulation and fumes from high frequency electrode.
Enables high-precision surgery by making it unnecessary to wipe camera lenses so frequently and ensuring clear vision.